Macross 7 (マクロス7, Macross 7?) is an anime television series. It is a sequel of the show The Super Dimension Fortress Macross that takes place many years after the events of the first series following a cast of mostly new characters. This was one was my favourite Anime Series as the whole Anime was mention about the Band "Fire Bomber". The songs were definely my favorite in all Anime.

Basara Nekki and Mylene


The show ran from October 16, 1994 to September 24, 1995 at 11:00 AM, and 49 episodes were aired. Currently the series is not licensed for distribution in any English-speaking country. This is due to both licensing issues involving the music, and an ongoing dispute between Big West and Tatsunoko Productions/Harmony Gold over who controls the right to create and distribute derivatives of The Super Dimension Fortress Macross outside of Japan.
Music War In between Protodevilns and Human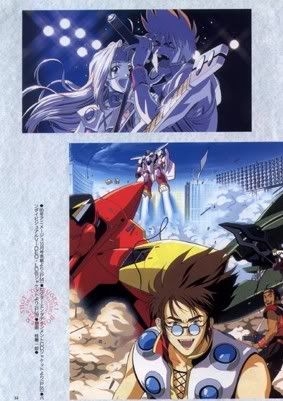 Macross 7 is best known for its music, and since the show began airing over a dozen albums have been released by the fictional band Fire Bomber that stars in the show.
Basara Nekki, Melene, Ray Lovelock and Veffidas Feaze

Macross 7 exists in the official Studio Nue chronology and canon, with story concept by Shoji Kawamori, who also handled mechanical designs along with Kazutaka Miyatake. A theatrical episode, Macross 7: Ginga ga Ore wo Yondeiru! (Macross 7: The Galaxy's Calling Me!), was released in 1995. Several OVAs were also released, including Macross 7: Encore and later, Macross Dynamite 7.
Synopsis
35 years after the events of the original Super Dimensional Fortress Macross, a spacecraft called Macross 7 leads the 37th colonial fleet on a colonization mission into deep space. The story focuses on the fleets encounters with an alien force called the Protodeviln, and especially events surrounding a rock and roll band called Fire Bomber, consisting of Basara Nekki (lead singer), Mylene Flare Jenius (seventh daughter of Maximilian Jenius and Milia Fallyna Jenius), Ray Lovelock, and full blooded Zentradi Veffidas Feaze. The fleet's flagship is the Macross 7, which is actually comprised of two parts. Battle 7 is the name of it's fore section. Battle 7 is a fully transformable battle cruiser captained by original series regular Maximilian Jenius, who is also the commander of the entire fleet. The much larger back section of the two part ship is known as City 7 and is the main civilian population center of the fleet, containing a population in excess of one million people. The mayor of City 7 is the estranged wife of Maximilian Jenius, Milia Fallyna Jenius. Battle 7 can separate from City 7 and transform in order to engage the enemy. City 7 can close down it's protective "shell" in order to better defend the citizens during battle.
My Favourite Songs From Fire Bomber
Angel Voice : Neki Basara & Lin Minmei Duet Ver

Dynamite

Technorati Tags: Macross_7, youtube, Macross, Fire_bomber, Anime, Yoshiki_fukayami