Start from the begining, I dunno how to create myself a website because I lack knowledge of HTML, uploading website and even playing with CSS. Truly by telling you I am nuts of all of this. I still remember starting learning from college I am still learning how to create frameset following by that were table and now all website layout was build by CSS but yet you still can saw people using frameset now. Unfortunely, I have return all the skill to my previous college lecturer.
Blog!!! Oh, this was very new thing from me starting from last year of January. From the starting, I tot wah!!!! nowadays people were so advance in building thier own websites. My buddies Ahkwong told me that all this blogsite are generated by wordpress, blogdrive, windows live and even friendsters. It was very simple, all the way you just only type your texts, add picture and upload thats all. But yet I still found it very difficult maybe because I am very lasy to learn and I felt embrassing to show my stuff on internet.
By the way in year 2006, I still found few websites which was very interesting such as
smashpop.net– Nice image, crazy posing and jumping here and there but it really capture my sight so I almost read it everytime when I online.
koyuuken.com– Talking about true feelings about his friendship, lifes and career.
Icequeen.mamakcorner.com–Releasing her emo and great written with nice english.
ahkwong.com-I read this blog because he was buddies site?!! No, actually I found that his site was unique on many Fxxk words mix with chinese DiX NiX SinX, Mxhax…..lolz
Foodlover.com– A lot of delicious food in Malaysia.
other sites recommended: JasonMumbles, The Angel , Danielyc…..more in my side bar!!
I almost reading them like read newspaper and my inspiration to create my blog as well.
Nearly last year September, I decide to create a blog site. So I went to look for my host Sogua and created Arch-Lancer. From the begining I still dunno how to write a blog so I start from step to step as I create few post which was about pets, chinese articles and x-animal. Afterthat, I found myself have no photo for my blog and I began to heache as well so I bought my second Camera FZ50. The first DigiCamera..oh I lost it at LRT station because of pick pocket.
After a month, I started know how to design the layout by using other people theme templates and applying plugins for insert swf format. Lolz create a new theme is far more then my knowledge. I was enjoying during that time and my friend started to tell me that….
Ahkwong : Do you know how many ppl when to ursite perday?
Fattien : How do I know?
Then Ah kwong introducing me to this site statcounter.com so I can know how many ppl come to my site perday. You gueast what..I only got a maximum 10 hits perday and a minimum of 0 most of them were my colleagues and frens only. What a dissapointment…T_T plz imagine you try hard to post something to your site but nobody come to your blog.
So my friend suggest me to go for this few step:
1. Apply tagnoranti and make tags, you can register from here http://technorati.com
2. Apply feedburner to suscribe your site, you can register from here
http://feeds.feedburner.com/
3. Ping your site to the search engine so other visitors will find you from the search engine: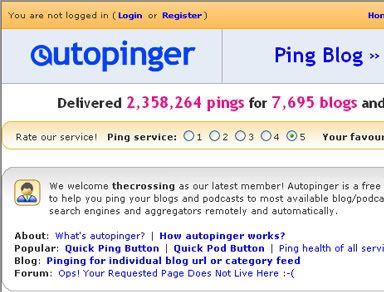 4. For Local ping you can go for this site Petalingstreet.org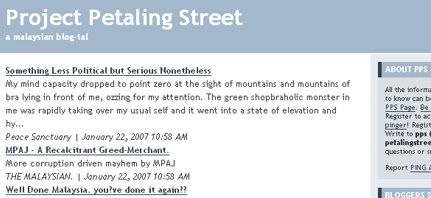 5. Register bloglog!


6. Particapant for Forum hot title and make your links there, a site here http://forum.lowyat.net/
Actually there are more platform and options to increase your popularity hits point. So after I have I apply all of this, and this is what happen for the next day:
(blue stand for unique visitors, green stand for page load and orange stand for returning visitors
Before


After


And the result i get 54 unique visitor for the next day. Woh that was really amazing but I know this was very little people compare to many hot blogsite.
Technorati Tags: Popularity, blogsite, blog, smashpop, ahkwong, icequeen, foodlover, jasonmumbles, autopinger, statcounter, google, MSN, danielyc, bloglog, tagnoranti,, feedburner, templates