I have my meal with my colleague on last Saturday at Low Yat Plaza. It has been a long time for not uploading food post already. I was suggested to eat at Sungei Wang's Yaw Yat Village Restaurant but since that Ian Wang want to try Low Yat Plaza's Restaurant Good Happiness then we go there to eat.

Ian dun want to face my camera so no choicelah I take the reflection from the miror….lolz. the image was edited photoshop one so I just put another layer of the signboard and mix it together. So if you guys look more carefully you can found it not match one.
I order normal drink Ying Yang, know as kopi mix with tehlah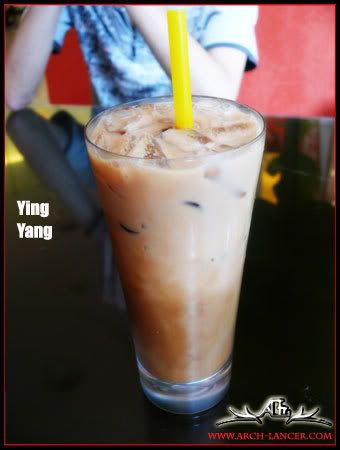 Cost: RM 2.50
Ian Wang order this the Prawn Roll Rice, but It didn't seems to have any prawns.


Cost: RM 8.90
Koh Order this the Cheese Spaghetti, It smell great with the cheese and taste yummy.


Cost: RM 13.90
I have been not coming here to eat for long time since last time I join Lynn and MingWei. That time I use to order Sizziling grill chicken so I make a change, I order the beef burger, taste normal.


Cost: RM 5.20
After that, I went to Hotlinks Games & Anime Festival. Want to know more about it can click the banner below:

Technorati Tags: Restaurant Good Happiness, Low Yat, Hotlinks, Food,